Spain
Judicial School
The Spanish Judicial School depends on the General Council of the Judiciary. As a constitutional body, the General Council received, by the law 16/94 the responsibility for the selection and training of judges.
The school has two locations, one in Barcelona for initial training, international programmes and direction, and one in Madrid for continuous training.  The Director is senior judge Jorge Jiménez Martín.
The selection process currently consists of three exercises, one multiple choice test and two orals. The average preparation time is of more than four years after the university law degree. The initial training for those who have passed the public competition entry exams consists of three phases: the first one is a theoretical/practical phase of 10 months in the venue of Barcelona, the second consists of internships in jurisdiction (6 months) and the third is the substitution and reinforcement phase (6 months), where candidate judges work in the court under the supervision of the Judicial School. A special feature of the Judicial School is to have a team of  full-time trainers ( judges, jurists or university professors). Many outside collaborators, such as judges, lawyers and experts intervene in the School throughout the year.
The Organic Law for the Judiciary provides that the General council must guarantee that all the judges receive individual, specialised, high-quality continuous training. The training actions  are currently based on three main pillars: The State Plan, decentralised programmes, and on-line training.
The school has an international vocation; more than three thousand jurists and judges from Iberoamerica have followed its training programmes.
Contact
Judicial School

Ctra Vallvidrera 43-45
08017 Barcelona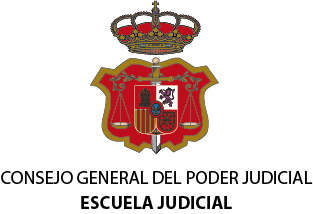 Austria

Federal Ministry of Justice

Belgium

Judicial Training Institute

Bulgaria

National Institute of Justice

Croatia

Cyprus

Czechia

Denmark

Estonia

Office of the Prosecutor General
Supreme Court

Finland

National Courts Administration
National Prosecution Authority

France

National School for the Judiciary

Germany

Federal Ministry of Justice
Academy of European Law

Greece

National School of the Judiciary

Hungary

National Office for the Judiciary
Office of the Prosecutor General

Ireland

Committee for Judicial Studies

Italy

School for the Judiciary
High Council of the Judiciary

Latvia

Latvian Judicial Training Centre
Office of the Prosecutor General

Lithuania

National Courts Administration
Office of the Prosecutor General

Luxembourg

National Council of Justice

Malta

Judicial Studies Committee

Netherlands

Training and Study Centre for the Judiciary

Poland

National School of Judiciary and Public Prosecution

Portugal

Centre for Judicial Studies

Romania

National Institute of Magistracy

Slovakia

Slovenia

Spain

Centre for Legal Studies
Judicial School

Sweden

Judicial Training Academy
Swedish Prosecution Authority