Lithuania
Office of the Prosecutor General
The Lithuanian Prosecutor's Office is an autonomous and independent state authority undertaking the functions established by the Constitution of the Republic of Lithuania, the Law on the Prosecutor's Office or other law. The Prosecutor's Office helps ensure lawfulness and assists courts in the administration of justice.
The mission of activities of the Prosecutor's Office is to effectively defend the public interest through the application of criminal and civil law measures. Away from this, the Prosecutor's Office also undertakes work with the legislative field, protecting public interest, dealing with petitions and involvement in criminal intelligence activities.
The Training Division, an autonomous division of the Prosecutor General's Office, organises training events, also via courses arranged by various international organisations. The strategic purpose of the Training Division is to organise qualitative, purposeful and continuous training as well as to address the qualification development of prosecutors, assistants to prosecutors and other lawyers, which fulfil the needs of the Lithuanian legal system.
Contact
Office of the Prosecutor General

Rinktinės g. 5A,
01515 Vilnius
Lithuania

/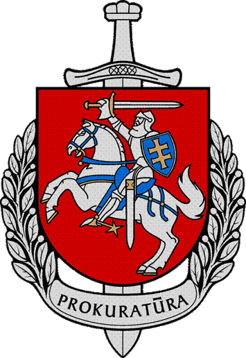 Austria

Federal Ministry of Justice

Belgium

Judicial Training Institute

Bulgaria

National Institute of Justice

Croatia

Cyprus

Czechia

Denmark

Estonia

Office of the Prosecutor General
Supreme Court

Finland

National Courts Administration
National Prosecution Authority

France

National School for the Judiciary

Germany

Federal Ministry of Justice
Academy of European Law

Greece

National School of the Judiciary

Hungary

National Office for the Judiciary
Office of the Prosecutor General

Ireland

Committee for Judicial Studies

Italy

School for the Judiciary
High Council of the Judiciary

Latvia

Latvian Judicial Training Centre
Office of the Prosecutor General

Lithuania

National Courts Administration
Office of the Prosecutor General

Luxembourg

National Council of Justice

Malta

Judicial Studies Committee

Netherlands

Training and Study Centre for the Judiciary

Poland

National School of Judiciary and Public Prosecution

Portugal

Centre for Judicial Studies

Romania

National Institute of Magistracy

Slovakia

Slovenia

Spain

Centre for Legal Studies
Judicial School

Sweden

Judicial Training Academy
Swedish Prosecution Authority