On Wednesday 2nd November 2022, on the occasion of the 2022 IOJT annual conference, the European Judicial Training Network signed a Memorandum of Understanding with the International Organization for Judicial Training in Ottawa, Canada.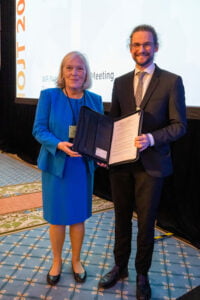 The Memorandum of Understanding will allow the IOJT and EJTN to exchange information, good practices and ultimately strengthen the ties between the two institutions.
This undertaking is fully in line with EJTN's commitment to innovation and its international exposure. Indeed, in 2016, the Members of EJTN, gathered at their annual General Assembly, solemnly adopted nine fundamental principles on judicial training, acknowledging the importance and specificity of the training judges and prosecutors should benefit from in democratic societies.Soon after, the IOJT worked out a common international framework of major training principles shared by all judicial systems. The first global declaration defining the universal principles of judicial training was adopted in 2017 at the annual IOJT Conference.
The IOJT promotes the rule of law by supporting the work of judicial training institutions around the world. It brings together 136 member institutes representing 84 countries. The theme of the conference 2022 is Effective Judicial Education: Understanding Vulnerable Populations. The European Judicial Training Network was represented in Ottawa by its Secretary General Markus Brückner and its Project Manager for Criminal Law, Alina Secrieru.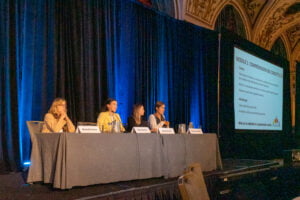 EJTN, in partnership with the Organization for Security and Co-operation in Europe (OSCE), delivered a joint workshop on developing a Training Module for Judges Hearing Cases Human Trafficking Cases as part of their ongoing cooperation. The participants were invited to reflect on the training needs in the area of Human Trafficking through the lenses of a victim-centred approach and to experience first-hand some proposed exercises from the toolkit.
Additionally, EJTN took part of the Knowledge Fair, where participants were invited to learn about the ongoing work of colleagues from around the world.
EJTN attendance of the activities and workshops during the Conference will contribute to enrich its training sessions as well (see here the programme of the Conference).