The free movement of people, goods, and services has played a positive role in fostering economic integration and cultural exchanges within the EU. But they have also opened the door to an increasing number of court cases involving foreign EU citizens. This is particularly visible in court and prosecution offices close to national borders.
To support judicial cooperation between neighbouring courts from two different EU Member States, EJTN has developed a dedicated training offer: the EJTN Regional Exchanges. Participants can foster mutual trust and cooperation at the local level, establish long-term cooperation relationships, and solve practical problems arising from cross-border cases.
Setting up a regional exchange with your counterparts
EJTN offers the possibility to fund an exchange of a maximum of two participants for 5 working days (Monday to Friday) in line with EJTN Financial Conditions. Applicants to an EJTN Regional Exchange must prepare a project detailing the topics that will be tackled during the exchange and identify a counterpart on the other side of the border. Reciprocity is possible, but two projects must be submitted.
Who
Judges, prosecutors, and court and prosecution staff located close to a border and working on cases involving a cross-border dimension with the closest neighbouring country.
Where
Visiting and hosting participants must be located at a maximum distance of 150 km from the domestic border (i.e. a maximum distance of 300 km between the two courts or prosecution offices).
When
Applications and supporting documents can be submitted all year long on the Exchange Programme Platform. Notifications for successful projects are sent within 6 weeks after the application. EJTN Member institutions are responsible for the selection of project applicants.
Examples of recent EJTN Regional Exchanges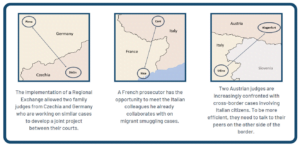 The EJTN Exchange Programme
Launched in 2005 at the initiative of the European Parliament, the Exchange Programme for judicial authorities aims to develop a European judicial culture based on mutual trust between judicial authorities in the European judicial area.
By participating in an exchange, judges, prosecutors, court and prosecution staff, and trainers from different EU Member States improve their knowledge of other judicial systems through direct contact and exchange of views and experiences.
In 2022 more than 3,000 judges, prosecutors and court staff from the EU, the UK and Western Balkans participated to EJTN exchange activities.
All the activities offered under the Exchange Programme can be found at:
https://ejtn.eu/exchanges-study-visits